PLAN Statewide Training Conference
2014 Pennsylvania Legal Aid Conference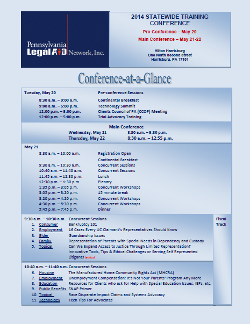 The 2014 Pennsylvania Legal Aid Network Conference was held on May 20 -22, 2014 at the Hilton Harrisburg Hotel.
CLICK HERE to view the Conference at a Glance listing the workshops for the conference. This is the final version containing last minute changes in the Agenda including some late cancellations that occurred due to unforeseen circumstances.
Resource Materials from the conference are available at the links below. Additional resource materials will be added as they are received from workshop instructors.
Resource Materials:
Fiscal Training
Plenary Program: Is Poverty Having Its Moment?
Trial Advocacy Training
---
Conference Concurrent Workshops:
Help Your Clients Stay at Home: Medicaid Waiver Application and Payment Issues

Representation of Parents with Special Needs in Dependency and Custody

Can We Expand Access to Justice Through Limited Representation? Innovative Tools, Tips & Ethical Challenges of Serving Self-Represented Litigants Ethics

What Can We Do for Clients Who Cannot Access Important Services or Even the Court System Because of Language Barriers?

Overcoming Barriers to Employment: An Update on New Developments (Client Training Workshop)

Current Topics in Public and Private Housing

How Legal Aid Advocates Can Work Best with State and Federal Agencies

Medical Assistance for Seniors and Individuals with Disabilities: Health Horizons, MAWD and Waiver Programs

Saving Homes by Raising Act 6/Act 91 Pre-Foreclosure Notice Violations

HealthCare.gov: How Can it Help our Clients?

Management and Supervision Roundtable: An Opportunity for Dialogue with Colleagues

Individual Case Representation to Bring About Broader Change