Pro Bono News
Updated: 3 years 39 weeks ago
The Pennsylvania Bar Association is requesting that members volunteer for a new pro bono initiative called Lawyers Saluting Veterans, which has the mission of ensuring that the men and women who have served faithfully in our armed forces receive the legal care they need and deserve.

Serving as a Lawyers Saluting Veterans volunteer is a way of saying 'thank you' to those who have put their lives on the line in defense of our nation and to serve as a pro bono role model for other PBA lawyers.

Each volunteer is asked to handle a minimum of one pro bono case per year in her or his areas of practice or expertise for Pennsylvania's military veterans. The program does not require a client means test. If the matter is something the lawyer does not handle, there is no obligation to take on the veteran as a client.

When registering to participate, lawyer volunteers are required to provide certification of malpractice insurance. After registering, volunteer lawyers have access to electronic documents such as an agreement of representation, a pro bono checklist and a termination letter for use with the veteran clients. In addition, volunteers receive an official certificate of participation for use in publicizing their involvement in the program. The PBA also will recognize volunteers through a special listing in the Pennsylvania Bar News.

The PBA Pro Bono Office and the PBA Military and Veterans Affairs Committee are coordinating the program. Veterans in need of pro bono assistance can find help in several ways. They can contact directly those lawyer volunteers who publicize their participation in the program in their local communities, or they can contact the PBA Pro Bono Office online or by telephone with their initial request for assistance. The PBA Pro Bono Office will assess the request and refer it to a volunteer lawyer.

To register for the PBA Lawyers Saluting Veterans program, go to this web address: http://www.pabar.org/public/lsv.asp. If you would like more information about the program, contact the PBA Lawyers Saluting Veterans hotline at 800-932-0311, ext. 2570.
Governor Tom Corbett has issued a proclamation proclaiming October 19-25, 2014 as PRO BONO WEEK in Pennsylvania. The proclamation reaffirms resolutions in both the Pennsylvania Senate and Pennsylvania House of Representative designating October 18-24, 2014 as Pro Bono Week in Pennsylvania.

These actions are in observance of National Pro Bono Week and Pennsylvania's place as a leader in celebrating National Pro Bono Week with numerous annual events across Pennsylvania. They also recognize the efforts of the Pennsylvania Bar Association, in conjunction with the American Bar Association, to sponsor and support the annual Celebration of Pro Bono.

The Governor's Proclamation, along with the resolutions from both houses of the Pennsylvania Legislature recognize the efforts of pro bono counsel across Pennsylvania and emphasize that National Pro Bono Week is an opportunity to highlight the difference attorneys make in their communities and to serve as a platform to recruit and train additional volunteers and acknowledge the partnerships that form the basis for many of the private bar's most successful pro bono efforts.

This year marks the sixth National Celebration of Pro Bono. The annual Celebration is a coordinated national effort to meet the ever-growing needs of this country's most vulnerable citizens by encouraging and supporting local efforts to expand the delivery of pro bono legal services, and by showcasing the great difference that pro bono lawyers make to the nation, its system of justice, its communities and, most of all, to the clients they serve.

Although national in breadth, the Celebration provides an opportunity for local legal associations across the country to take the next step in their efforts to provide high quality legal services to those living on the social margins.

Numerous events are being held across Pennsylvania and the celebration seeks to both recognize the efforts of the last year and encourage more attorneys to participate in pro bono in the coming year.

For more information on the National Celebration you can visit www.CelebrateProBono.org. Information on Pennsylvania events celebrating pro bono visit the Pennsylvania Bar Association 2014 Pro Bono Week webpage and PAProbono.net which features a listing of events occuring across the state throughout the month of October.

Governor's Proclamation
Pennsylvania Senate Resolution
Pennsylvania House of REpresentatives Resolution
The Pennsylvania Bar Association (PBA) and 25 county bar associations are launching a statewide informational campaign, "Have a Voice in Your Exceptional Child's Education," which provides parents and guardians an overview of the special education rights of students with disabilities and mentally gifted students.

"A parent or guardian who knows or believes a child has problems learning or is mentally gifted often has many questions about the steps that must be taken to ensure that evaluations are properly completed and, when needed, educational programs and services are put into place to best support that child," said Francis X. O'Connor, PBA president, during a news conference at the state Capitol Rotunda.

"In Pennsylvania, there are educational rights in place designed to protect children who have mental and physical challenges that hinder their development. There also are education rights in place for children with outstanding intellectual and creative abilities. In creating this campaign, the PBA felt it important to provide some basic information to parents and guardians about these rights, how the assessment processes to identify disabilities and giftedness get started, and where parents and guardians can turn when they need more information," O'Connor said.

"Although there are many educational rights in place for parents of exceptional children, unfortunately, many parents are either unaware or simply overwhelmed by the process," said Stephen J. Jacobson, vice chair of the PBA Legal Services for Exceptional Children Committee, and founding member and managing partner, Connolly, Jacobson & John LLP. "Our law firm specializes in working with families of children with special needs and we are thrilled this campaign is being initiated by the PBA. Initiatives like this help broaden the awareness of parents to the multitude of resources available to them and, more importantly, help their exceptional children get the educational support they need."

"All children must have access to a high-quality, effective education that prepares them for adult life in the community," said Gabe Labella of the Disability Rights Network of Pennsylvania.

"Children with disabilities are no different. They are entitled to be educated with their non-disabled peers in inclusive settings with the supports and services they need to thrive and be prepared for postsecondary education, employment, and independent living. DRN looks forward to working with the PBA as we embark on this important venture."

As part of the informational campaign, O'Connor said that the state bar and participating county bar associations are distributing brochures titled "Education Rights for Students with Disabilities" and "Education Rights for Mentally Gifted Students." To receive a free copy of the brochures by mail, contact the PBA toll-free at 1-888-799-4557. The brochures also are available at no cost on the association's website at www.pabar.org.

The campaign is funded by the PBA and a grant from the Pennsylvania Bar Insurance and Trust Fund. It is the 12th in a series of statewide public education efforts waged under the direction of the PBA Community and Public Relations Committee. Previous campaigns have addressed such issues as wills and estates, identity theft, credit issues and child support.

Joining O'Connor, Jacobson and Labella at the news conference were Marie Webb of Pittsburgh, chair, PBA Community and Public Relations Committee; Michelle Christian of Yardley, member, PBA Community and Public Relations Committee; and Robert H. Davis Jr. of Harrisburg, member, PBA Community and Public Relations Committee.

Local bar associations participating in the campaign include the Beaver County Bar Association, Berks County Bar Association, Butler County Bar Association, Centre County Bar Association, Chester County Bar Association, Cumberland County Bar Association, Dauphin County Bar Association, Delaware County Bar Association, Erie County Bar Association, Fayette County Bar Association, Lackawanna Bar Association, Lancaster Bar Association, Lawrence County Bar Association, Lebanon County Bar Association, Bar Association of Lehigh County, Lycoming Law Association, Mercer County Bar Association, Monroe County Bar Association, Montgomery Bar Association, Northampton County Bar Association, Schuylkill County Bar Association, Washington County Bar Association, Westmoreland Bar Association, Wilkes-Barre Law and Library Association and York County Bar Association.

The PBA Legal Services for Exceptional Children Committee is serving as a partner in this year's effort. In addition to its involvement in the informational campaign, the PBA Legal Services for Exceptional Children Committee develops programs that educate lawyers on current legislation and/or regulations affecting exceptional children and their families, and it studies, reviews and make recommendations concerning legislation and regulations affecting exceptional children and their families. It is one of the more than 50 PBA committees and sections dedicated to improving the practice of law in Pennsylvania.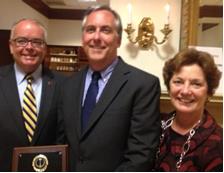 Montgomery County lawyers and judges celebrated the pro bono partnership of the local bar, the courts, private practice attorneys and legal aid professionals that help the neediest among us have access to justice in September as noted family-law attorney Daniel J. Clifford was honored with a 2014 Pennsylvania Bar Association Pro Bono Award.

William H. Pugh V, PBA president-elect, presented Clifford with his award and called on all lawyers to follow his positive example of giving back to the community. Pictured here are Pugh, Clifford and Nancy Paul, Executive Director of the Montgomery Bar Association.

Attorney Clifford has been recognized by the publisher of Super Lawyers magazine as being among the top 5 percent of family lawyers in Pennsylvania. He has received Awards of Merit for his work in the area of international parental child abduction on numerous occasions from the National Center for Missing and Exploited Children and is on the assigned counsel list maintained by the State Department to represent parents in these Hague Convention matters.

Attorney Clifford also recently finished his term as Chair of the 1,400 member Family Law Section of the Pennsylvania Bar Association. In this position, he was responsible for the planning and execution of two statewide conferences, presiding over a large deliberative Council and representing the Family Law Section throughout Pennsylvania. During his year as Chair, Attorney Clifford advocated his vision for improvements to Pennsylvania's family court system, including creating a video on how to interview children during custody proceedings.
Maryland Attorneys Offered Opportunity to Assist Residents in Need
Carolyn W. Colvin, Acting Commissioner of Social Security, announced the agency's implementation of a pro bono pilot in Maryland for attorneys interested in being a representative payee for a Social Security beneficiary. Representative payees provide crucial help to the most vulnerable individuals in our community with their Social Security and Supplemental Security Income payments.

"The Maryland Representative Payee Pro Bono Pilot offers attorneys a chance to fulfill the Court of Appeals' aspirational goal of providing pro bono services – by assisting the young, elderly, and disabled with their Social Security benefits," Acting Commissioner Colvin said. "Attorneys are held to high ethical standards and will serve this at-risk population with the compassion and integrity they deserve."

Any licensed Maryland attorney in good standing can volunteer for this pilot project by registering at www.socialsecurity.gov/payee/probonopilot.htm. Social Security will use the information provided to connect interested attorneys with beneficiaries in need of the services. The Maryland pilot will expand the network of available candidates to help assist those in need. "The Pro Bono Resource Center of Maryland supports the new pilot project and looks forward to working with the Social Security Administration in promoting this important opportunity to assist vulnerable individuals to the Maryland legal community," stated Sharon E. Goldsmith, Executive Director of PBRC. PBRC serves as the designated pro bono arm of the Maryland State Bar Association.

Representative payees provide a key service to Social Security recipients who are unable to manage their benefits. Nearly 21 percent of people who need help managing their payments do not have family members or trusted friends who can help them. Payees receive monthly payments on behalf of the beneficiary and use the funds to meet the individual's basic needs such as food, clothing, and shelter. They also keep records and ensure that Social Security funds are used to care for the recipient. Once the pilot is successful in Maryland, the agency will consider expanding to states nationwide.

Acting Commissioner Colvin reinforced that "representative payees play a vital role in serving our beneficiaries and creating a stable living environment for the most vulnerable people in our society. I encourage eligible Maryland attorneys to participate in this pilot."

Original Press Release
The Pennsylvania Bar Association Legal Services to the Public Committee honored Deborah S. Freeman, court administrator, Dauphin County Court of Common Pleas, with the Jeffrey A. Ernico Award on October 1, 2014, during the Dauphin County Bar Association Fall Membership Meeting at the Civic Club of Harrisburg.

The award celebrates the pro bono accomplishments of Harrisburg attorney Jeffrey A. Ernico and his longstanding commitment to equal justice and serving those who have nowhere else to turn for legal services. It is an occasional award of the PBA Legal Services to the Public Committee, given to such individuals and groups providing unique services that has resulted in significant improvements in the provision of legal services to the neediest Pennsylvanians.

The award was presented by Jeffrey A. Ernico and Lisa Benzie, chair, PBA House of Delegates. Also present for the presentation were David K. Trevaskis, PBA Pro Bono Coordinator; Sandra Ballard, Dauphin County Pro Bono Coordinator; and Rhodia Thomas, Executive Director of MidPenn Legal Services.

Freeman is the seventh recipient of the Ernico Award since it was created in 2006. Her award reads: "A champion of access to justice, Deborah S. Freeman has been dedicated to public service throughout her career. Her leadership in opening the courts of Dauphin County to those in need is a model for the Commonwealth to follow."
The Pennsylvania Bar Association is recruiting volunteers for the new "Lawyers Saluting Veterans" program through which members handle pro bono cases in their areas of expertise for Pennsylvania's military veterans.

For more information on this program coordinated by the PBA Pro Bono Office and Military and Veterans' Affairs Committee, call 800-932-0311, ext. 2570.

PA Bar Association members can CLICK HERE to register for the program.
The Allegheny County Bar Association recognized the winners of its 2014 Pro Bono Achievement Awards at the 2014 Fellows Grand Reception and Dinner, which was held on September 16, 2014 at the LeMont restaurant in Pittsburgh.
The Achievement Awards recognize individuals, law firms, legal departments, and organizations who have made significant contributions to enhancing the provision of free legal services to low-income residents of Allegheny County in the past year. The 2014 award recipients are:
Amy Carpenter, Esq., Lorraine M. Bittner Public Interest Attorney Award
Sarah Carlins, Esq., Jane F. Hepting Individual Pro Bono Award
Meyer Unkovic & Scott LLP, Pro Bono Achievement Organization Award
Heather Fink (Edgar Snyder & Associates), Paralegal Pro Bono Award
Jones Day Veterans Legal Clinic, Special Service Pro Bono Award
Emily Jeannette Kaufmann, Esq., Outstanding Pro Bono Service Award
Jill Lipman Beck, Esq., Outstanding Public Service Award
The keynote speaker at the 2014 Fellows Grand Reception and Dinner was Deirdri Fishel, Centre County Domestic Violence Detective. Fishel is the narrator of "Telling Amy's Story", a documentary which chronicles the events leading up to a 2001 domestic violence homicide in State College.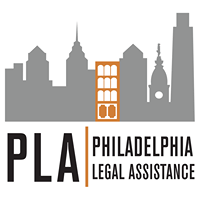 The Legal Services Corporation has announced that Philadelphia Legal Assistance is one of the 11 legal aid organizations selected to receive grants from its new Pro Bono Innovation Fund to support projects that develop replicable innovations in pro bono services for low-income clients.

The Philadelphia Legal Assistance project will use the network of existing neighborhood public health centers in Philadelphia to create a pro bono, law- student-driven Medical-Legal Community Partnership that will improve access to comprehensive, coordinated health and legal care. The grant will provide PLA with $240,305 to fund the project over two years.

Many of the projects receiving grants use emerging legal aid technology to reach rural populations. Others create extensive pro bono partnerships with local law schools, community organizations, and corporate attorneys. All the projects seek to engage and recruit pro bono lawyers and other volunteers to leverage LSC's federal funding and increase the resources available to low-income clients.

"We are grateful to Congress for funding this new competitive grant program to increase pro bono support for civil legal aid," LSC President Jim Sandman said. "As a former antitrust lawyer, I believe that competition promotes innovation. The number and quality of the applications for our new Pro Bono Innovation Fund grants proves the point."

The creation of the fund was recommended by LSC's Pro Bono Task Force, and Congress allocated $2.5 million for it in its FY-2014 budget.

The other ten recipients of the 2014 Pro Bono Innovation Fund are:
Atlanta Legal Aid Society - $212,837, 24 months
Atlanta Legal Aid Society will integrate pro bono attorneys throughout their offices in five counties to make follow-up contact with clients and provide additional brief services, which has been proven to improve client outcomes significantly.

Colorado Legal Services - $173,808, 24 months
Colorado Legal Services will collaborate with the Colorado Bar Association to develop different technologies and clinic structures to identify the most effective ways to replicate metropolitan-area pro bono clinics in rural parts of the state.

Legal Aid Foundation of Los Angeles - $309,451, 24 months
Legal Aid Foundation of Los Angeles will partner with Neighborhood Legal Services of Los Angeles County and OneJustice to develop the California Pro Bono Training Institute, a statewide online forum of substantive trainings that will provide legal services organizations and pro bono attorneys with high-quality, engaging, and on-demand Continuing Legal Education courses relevant to pro bono work for low-income clients.

Legal Assistance of Western New York (LawNY) - $314,068, 18 months
In response to New York Chief Judge Jonathan Lippman's two major pro bono initiatives, LawNY is partnering with five other LSC grantees in New York State to create a new pro bono practice group across organizations and coordinate pro bono opportunities among their 33 offices and nine New York law schools, including the Feerick Center for Social Justice at Fordham University School of Law, which staffs the Attorney Emeritus Program for the Office of Court Administration.

Maryland Legal Aid - $265,464, 24 months
Maryland Legal Aid will establish a single, statewide Veterans Hotline, staffed by qualified pro bono attorneys who will be recruited and trained throughout the state to effectively and efficiently meet the legal needs of Maryland's low-income veterans population.

Montana Legal Services Association - $141,087, 24 months
Montana Legal Services Association's project will develop a statewide technology platform targeting barriers to legal service delivery for solo practitioners, small firms, government attorneys, law students, and paralegals.

Northwest Justice Project - $211,120, 24 months
Northwest Justice Project will develop a comprehensive set of resources to support pro bono attorneys in providing significant assistance beyond brief advice or limited action in unfamiliar areas of law, systematically increasing the level of extended services provided to low-income clients.

Prairie State Legal Services, Inc. - $158,815, 18 months
Prairie State Legal Services will partner with Illinois Legal Aid Online to recruit and train pro bono attorneys in suburban areas and other 'collar counties' surrounding Chicago in an effort to provide legal services for single parents in need of family law assistance.

Utah Legal Services - $190,000, 24 months
Utah Legal Services is partnering with the Self-Help Center of the Utah State Courts, local Utah State Bar Pro Bono committees, Timpanogos Legal Center, and volunteer law students and attorneys to provide a continuum of service for clients representing themselves in family law matters in rural areas in Utah. These organizations will expand their collaboration by creating an online meeting and document-sharing platform that connects clients with on-call volunteer attorneys.

Volunteer Lawyers Project of the Boston Bar Association - $158,045, 24 months
The Volunteer Lawyers Project of the Boston Bar Association will test and prototype "pop-up" clinics, a customized virtual law firm platform, and cost-effective videoconferencing to allow expert bankruptcy volunteers in Boston to train and mentor pro bono attorneys in parts of the state where no pro bono bankruptcy attorneys are available.
ABA Military Pro Bono Project
2014 Summer Newsletter
Pro Bono Attorneys
Read the latest information about the following:
ABA Military Pro Bono Project: Assisting active duty military members
The ABA Military Pro Bono Project accepts case referrals from military legal assistance offices anywhere in the world on behalf of junior enlisted servicemembers facing civil legal issues, and it places these cases with pro bono attorneys where the legal assistance is needed in the United States. Read some of the case stories to see how our volunteers are successfully helping our military families.
Are you receiving the Military Pro Bono Project's weekly case opportunities email? If not, please sign up! You can also explore pro bono case opportunities under the website's For Volunteer Attorneys tab, which is updated daily.
The Project's ongoing success depends on attorneys' continued participation. Based on case–closing data provided by all of you who participated, over 4,300 billable hours of pro bono service for our servicemembers, valued at over $1.2 million, were donated in 2013. Thank you for our volunteers' generosity and ongoing help!
Questions? Find further information on www.MilitaryProBono.org.
Operation Stand–By: Providing guidance to military attorneys
Through the Military Pro Bono Project's Operation Stand–By, you may offer to provide attorney–to–attorney guidance to military attorneys so they can further assist their servicemember clients. Thanks to those of you who have joined and are participating!
When working with their clients, there may be times when military attorneys need state–specific legal information, or perhaps a deeper analysis of a legal area with which they are less familiar. Joining Operation Stand–By gives you the opportunity to help our servicemembers with a very small time commitment, as participation with Operation Stand–By in itself does not entail representation. Rather, you will potentially receive short calls or emails from JAGs in need of attorney–to–attorney guidance relating to your areas of expertise. Military attorneys registered with the Project will find your contact information and areas of expertise on a password–secured list on the Project website.
Sign up to join Operation Stand–By! Log onto the Project website to update your profile and join Operation Stand–By (in your profile, click on "I am registering to join the Project's Operation Stand–By").
Already signed up with Operation Stand–By? Please log onto the Project website to review your profile to ensure that your contact information and substantive legal areas of interest are up–to–date. Also, have you completed the Operation Stand–By Survey: Volunteer Attorneys? If you are signed up with Operation Stand–By and have not yet completed this survey, please take a couple of minutes to do so. We appreciate your feedback.
The ABA, in partnership with the U.S. Department of Veterans Affairs (VA), is providing a unique, limited-scope pro bono volunteer opportunity for lawyers to help veterans with the preparation and completion of claims for disability compensation benefits currently pending with VA: The ABA Veterans' Claims Assistance Network (VCAN).
ABA VCAN recently launched as a pilot program, focusing on pending claims in VA Regional Offices in Chicago, Illinois, and St. Petersburg, Florida, but many of these claims can be assisted by attorneys located anywhere in the country. VA is selecting eligible veterans for this pilot by targeting unrepresented veterans who are in, or are at risk of falling into, the VA's claims backlog. Not only will individual veterans served through this program potentially receive benefits more rapidly, but the support provided by ABA VCAN's volunteers will supplement the overall delivery of VA services, benefitting all veterans within the VA system.
To volunteer, attorneys must first take 4 simple steps:
Questions? Please find further information on www.ABAVCAN.org and visit the ABA VCAN Q&A page.
Educational Resources
CLE Programs
Did you know that the ABA Standing Committee on Legal Assistance for Military Personnel (LAMP) consistently hosts free CLE courses? Visit the LAMP CLE webpage for information about upcoming CLE programs, along with educational materials from previous CLE courses.
Useful Books
The men and women in uniform who risk their lives to defend our nation are targeted by certain types of sales, scams and abusive commercial practices with appalling frequency. They deserve better. This book, Ripped Off!, is an important tool to ensure that our military personnel are educated about these scams so that rip offs can be recognized and prevented. Written by Michael S. Archer, a retired Major in the US Marine Corps, this book is accessible to a wide audience that includes servicemembers, superior officers, military legal assistance attorneys and other lawyers, as well as military and civilian authorities. This book is available on the ABA Web Store.
American Bar Association Legal Guide for Military Families is the complete resource for servicemembers, veterans, and their families. This guide will help all servicemembers clarify their legal issues, understand the options, and locate assistance. Topics are presented in an easy-to-read format and every chapter includes a resources section with phone numbers, websites, and contacts to help servicemembers find answers and move forward. This book is available on the ABA Web Store.
A Judge's Benchbook for the Servicemembers Civil Relief Act, by Colonel John S. Odom, Jr., USAF, Retired, is designed to acquaint judges of all levels regarding the provisions that protect servicemembers while they serve on active duty, because many judges are unfamiliar with the Servicemembers Civil Relief Act. The Benchbook is available on the ABA Web Store.
The new edition of The Military Divorce Handbook, by Mark E. Sullivan, is a timely and much–needed addition to a family lawyer's library. Both comprehensive and practical, it covers all aspects of representing servicemembers and their spouses in divorce in an accessible, easy–to–use format. This book is available on the ABA Web Store.
ABA Members may purchase these books at discounted prices!
ABA Military Pro Bono Project's Online Library
Did you know that the ABA Military Pro Bono Project has an online library filled with resources that focus on legal issues faced by servicemembers, veterans, and military family members? Log onto the website and visit the Library.
Dialogue: News and Perspectives from the ABA Division for Legal Services
Read the latest articles in Dialogue—the magazine of the ABA Division for Legal Services, which brings you news and topical information about the delivery of legal services to low and moderate income people—featured by the ABA Standing Committee on Legal Assistance for Military Personnel (LAMP):
Would you be interested in writing an article for Dialogue? Review the Dialogue Writers' Guidelines or contact us at militaryprobono@americanbar.org for more information.
Financial Support to the Military Pro Bono Project
Visit www.militaryprobono.org/support to donate. Your financial support of the Project, through the ABA Fund for Justice and Education, a 501(c)(3) entity, will help to ensure that our servicemembers receive the legal help that they need.
Learn how you, your firm, or your company can become a Star Ranking Supporter by visiting the Project website or contacting the Project Director, Mary Meixner, at mary.meixner@americanbar.org or 312.988.5783.
Thank you to the Project's Star Ranking Supporters!

Lockheed Martin
Mr. and Mrs. David C. Merjan
And thank you to all of our Star Ranking Supporters acknowledged on the Project website.
You received this email because you have registered as a member of the ABA Military Pro Bono Project. To edit or cancel your membership, log onto www.militaryprobono.org and edit your profile. If you have questions, contact the Project Director, Mary C. Meixner, at mary.meixner@americanbar.org.
Your e–mail address will only be used within the ABA and its entities.
We do not sell or rent e–mail addresses.
American Bar Association | 321 N Clark, Chicago, IL 60654–7598 | 800–285–2221 | 312–988–5522
Wed, 09/03/2014 - 11:57am
The American Bar Association Standing Committee on Pro Bono and Public Service (ABA) and the National Legal Aid & Defender Association (NLADA) are seeking session proposals for the 2015 Equal Justice Conference which will be held May 7-9, 2014 in Austin, Texas. This conference is designed to bring together all components of the legal community committed to ensuring civil equal justice for the poorest, most disadvantaged people and communities in our society.
Conference programming will focus on the innovative and creative ways that the equal justice community has maximized and leveraged strategic and collaborative approaches, using a broad range of resources (including the private bar, staffed field programs, law schools, public service lawyers, members of the judiciary and others), to address inequities in our justice system.
Proposals should explore the most current and relevant legal needs of those struggling to achieve access to justice including consumer debt collection and bankruptcy, managing an organization with limited resources, immigration, health care, housing, and new strategies for providing service.
Proposals are sought in the following categories:
Pro Bono Programming: focuses on models utilizing volunteers to deliver legal services and all aspects of involving volunteers in access to justice, from recruitment to recognition

Partnership Programming: focuses on ways in which elements of the legal community such as court, bar leaders, etc. can support and promote pro bono participation in conjunction with legal services and pro bono providers

Substantive Law Programming: presents information on an area of substantive law, e.g. domestic violence

Management and Diversity Programming: addresses issues of nonprofit management and increasing diversity among staff and volunteers

Delivery Innovations Programming: presents advances in and inventive models of legal services delivery

Resource Development Programming: examines issues of funding and fundraising

Info Management and Technology Programming: discusses ways in which technology can be utilized to leverage the delivery of legal services by staff and volunteers
Proposal submissions are due no later than October 10, 2014.
For more information visit www.equaljusticeconference.org and follow the links below. If you have questions about completing the online form, please contact Erin Wellin at erin.wellin@americanbar.org.
A special training session is scheduled for Sept. 26 and 27 in Hershey for lawyers who are interested in serving as county coordinators of Wills for Heroes events. A coordinator works with first responder organizations and other program volunteers to set up Wills for Heroes events in his or her county benefitting first responders and military veterans. See the online map showing the Pennsylvania counties that are in need of coordinators.

Wills for Heroes is a free service that provides wills, living wills and financial powers of attorneys to veterans, first responders and their spouses/partners. At the conclusion of one-hour appointments with legal volunteers, veterans, first responders and their spouses/partners receive notarized legal documents. The PBA Young Lawyers Division adopted Wills for Heroes as one of its statewide public service projects in spring 2009. Since that time, more than 5,000 first responders and their spouses/partners have received free wills and estate planning documents.

The county coordinator training will be held at The Hershey Company during the afternoon of Sept. 26 and attendees will participate in a Wills for Heroes Event in Hershey on Sept. 27.

For more information about the training and Wills for Heroes session, contact the PBA's Maria Engles by phone, 800-932-0311, ext. 2223, and by email.
The Board of Immigration Appeals (BIA), the highest administrative immigration court in the United States, published a landmark decision on August 26, 2014 in Matter of A-R-C-G-. The BIA found that women fleeing domestic violence can be members of a particular social group, one of the grounds for asylum, and remanded a case involving a Guatemalan woman asylum seeker to the immigration court for a new decision. The Board's decision signals a move away from restrictive interpretations of the law that have made it difficult for domestic violence survivors to receive protection in the United States. This ruling has the potential to affect immigrant women survivors of domestic violence across the country.
The case involves a mother of three, Ms. C-G-, who suffered what the decision deems "repugnant abuse" at the hands of her husband, including beatings, rapes, an assault that broke her nose, and an attack with paint thinner that left her with burn scars. Her efforts to get police protection were in vain, as they refused to interfere, and her husband threatened to kill her if she contacted them further. Her husband thwarted her repeated efforts to leave and stay with relatives when he found her and threatened her if she did not return.
"If a woman in this situation cannot count on the U.S. government for protection, when her own government has failed her, who can?" asked Karen Musalo, Director of the Center for Gender & Refugee Studies at the University of California Hastings College of the Law (CGRS). "We are pleased that the Board of Immigration Appeals finally broke its fifteen-year silence on this issue and recognized through a fair application of the law that this woman, and women like her, can establish eligibility for asylum." CGRS provided consultation to the attorney in the case and filed an amicus brief.
The case of Ms. C-G- is part of a long history. In 1999, the BIA denied asylum to Rody Alvarado, a Guatemalan woman who, much like Ms. C-G-, fled intimate partner violence and a failed government response. An international outcry led the government to retract the BIA's decision and issue regulations in 2000 that would have recognized domestic violence as a basis for refugee protection.
Although the regulations were never finalized, and the BIA had not issued, until this case, a published decision in a domestic violence case, the Department of Homeland Security (DHS) agreed to a grant of asylum in 2009 for Ms. Alvarado as well as in the similar and highly publicized domestic violence case of Ms. L-R- in 2010. CGRS represented both women. However, those cases were not precedential and could not, therefore, provide adequate protection to asylum seekers fleeing domestic violence.
lthough in the cases of Ms. Alvarado and Ms. L-R-, DHS clearly took the position that women fleeing domestic violence can qualify for protection, immigration judges have continued to issue arbitrary and inconsistent decisions due to the years-long void of binding guidance. The result: many women have been ordered returned to their abusers.
In the case of Ms. C-G-, the BIA found that she suffered harms rising to level of persecution, and DHS agreed with this view. An immigration judge had denied Ms. C-G- asylum on different grounds, finding that the abuse she suffered was the result of arbitrary criminality and not on account of her gender-defined social group. On appeal, the BIA recognized that Ms. C-G-'s social group met the (often illusive) requirements of immutability, social distinction, and particularity based on the evidence she presented.
For that reason, the BIA sent the case back to the immigration judge to consider the remaining requirements for asylum, such as whether her government is able or willing to protect her. While Ms. C-G- must still present her claims to the immigration judge in a new hearing, this ruling marks a critical turn in the administration's interpretation of gender-based asylum claims.
Many of the women who are part of the recent surge of immigrant women and children arriving at the U.S.–Mexico border, including those held in crowded detention centers such as the one in Artesia, New Mexico, are fleeing violence at the hands of intimate partners. In some cases, the partners are gang members who target young women and force them into relationships.
"Although hurdles remain, especially for women without an attorney to present evidence on their behalf, this binding ruling provides much needed guidance for immigration judges about how to handle these cases," said Lisa Frydman, CGRS co-Associate Director and Managing Attorney, "and, ultimately, a better shot at asylum protection for women and their children in similar situations."
The A-R-C-G- ruling represents an important step in the right direction, recognizing the arguments advocates have put forward for more than a decade. "We hope this decision reflects a renewed commitment on the part of the Obama administration to protect women's human rights," remarked Blaine Bookey, CGRS co-Associate Director and Staff Attorney.
Original News Release from Center for Gender & Refugee Studies